Are you interested in job opportunities in the Netherlands, but still hesitant to use Robin or go with another agency? These 9 guarantees you can expect from Robin when you go to work in the Netherlands will help you decide.
1. Getting the job done
Here's how Robin differs from other intermediaries that offer recruitment services. Because we work with 26 different agencies in the Netherlands, we have all their active job offers. During peak season, Robin has more than 100 different job offers. This allows us to find the right job for you. For us, the right job does not mean a job that our recruiters or our partners are looking to fill. No, we try to find you a job according to your needs, which you specify during the registration process or when you talk to a recruiter. Our recruiters use data collected from other people like you to determine which jobs you would be most suitable for. Cool, isn't it? If we can't find someone to suit your needs because of your current situation, we'll offer you another job.
If you're curious to find out what kind of job we could offer you,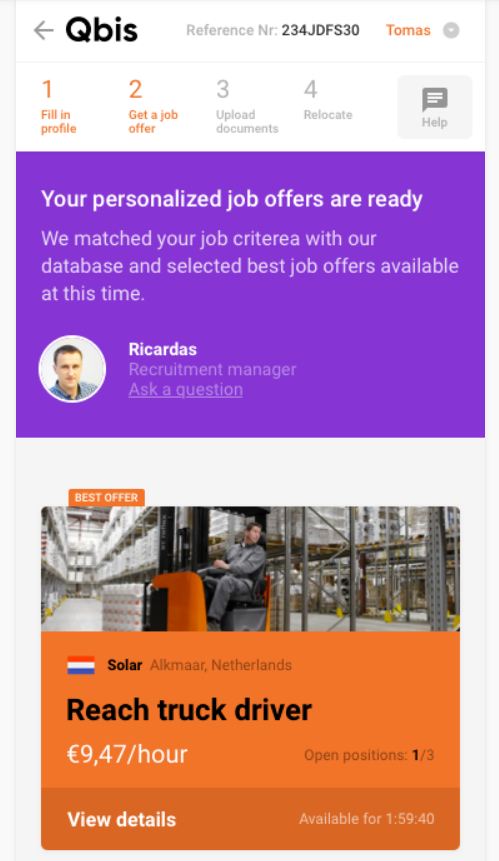 2. Get a Dutch employment contract
All jobs offered by Robin come with a Dutch employment contract. This means that your taxes will be paid in the Netherlands and you will have all the social security benefits of anyone living in the Netherlands. Think how useful it is to have social security in case, say, you lose your job or fall ill.
Many people who go to the Netherlands for temporary work are given a standard contract of employment, which is based on the standards of the Association of Recruitment Agencies (ABU). The advantage of this agreement is that recruitment agencies are bound by strict contract conditions that protect you as an employee. Agencies must comply with these rules in order to provide recruitment services. Some agencies guarantee a minimum number of working hours per week. Please carefully review the job offers sent to you by Robin, where you can find this information.
A Dutch employment contract will be signed between you and the temporary employment agency in the Netherlands upon your arrival or the day after your arrival. Without a contract you cannot start working in the Netherlands. The contract will be presented either in your mother tongue or in English.
3. Accommodation provided
Everyone who goes to work in the Netherlands with Robin's help receives accommodation. Many recruitment agencies in the Netherlands try to accommodate people coming from the same country together. This is important so that you can interact freely with your roommates and create a pleasant atmosphere. Other agencies try to accommodate people of different nationalities together so that you can gain experience and feel like you are abroad. In this way, you have the opportunity to get to know not only the Dutch people but also people from different parts of Europe. The largest immigrant population in the Netherlands is Polish. So there is a pretty good chance that you will be placed with a Pole when you come to work in the Netherlands.
Robin only works with agencies that offer SNF-licensed accommodation. This licence guarantees minimum conditions for all accommodation. People are accommodated in accommodation where they will have at least a minimum of refrigerator space, a shower and a toilet. The premises also have a minimum floor space for each person. The standards of accommodation are regulated and become stricter every year. This also means that accommodation conditions for immigrants are getting better. However, there is one drawback: the cost of accommodation is rising. As far as we know, living conditions depend mostly on you and the people who live with you. A place is much more comfortable if you manage it as you would your own home.
Be prepared to pay around €100 per week for accommodation. If you don't like the accommodation, you can talk to the agency and they will try to find another place for you. Remember that there is not always accommodation available near your workplace. If you want to find your own accommodation, this is not a problem and many agencies would even consider this an advantage. However, consider that renting on your own can be difficult and may cost you more than the accommodation offered by the agency.
If you want to know more about accommodation conditions, read our blog post on this topic.
4. Social Security Number (BSN)
When applying for a job, you need to inform Robin staff if you have already worked in the Netherlands. If not, the agency will arrange for you to visit the local office when you arrive in the Netherlands, where you can obtain a Dutch social security number. So, on the first day after your arrival, your future employment agency will take care of your Dutch social security number (called BSN). This number is given to you free of charge and issued by your local municipality. It can also be used by various institutions as a means of identification. Keep the letter with your social security number (take a photo of it) so that you have it when you want to declare your income or apply for benefits.
5. You will be met on arrival
Depending on the agency you work with, you may arrive directly at your accommodation. You may also spend your first night in a hotel, from where you will continue your discovery of the Netherlands. If things don't look quite as you expected when you arrive at your address, Robin's staff will be there to help you. Remember, we are the intermediaries between you and your new employer. If problems remain unresolved, we can work with you to find new employment opportunities.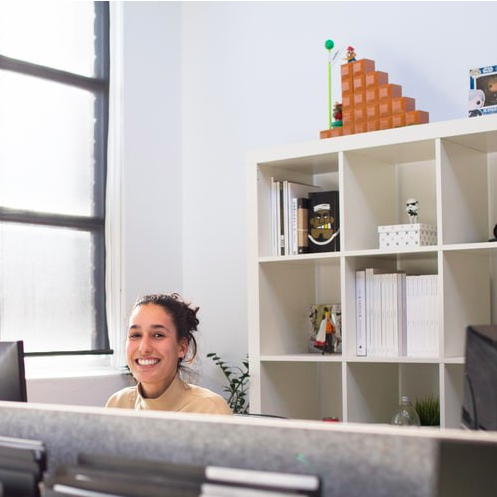 When you apply for a job, you will need to upload your documents and attach personal information. Once you and the Dutch recruitment agency have agreed to the placement, we will pass on your information to them. Even before you arrive in the Netherlands, our partners are aware of your arrival, so they make sure that the person in charge meets you and helps you on your first day.
6. You will be provided with transport
If you go to work in the Netherlands with Robin, you will always be provided with transport from your future place of residence to your place of work.
The type of transport provided depends on how far you live from your place of work.
Generally speaking, if your place of residence is within 10km of your workplace, you will be able to use a bicycle, like many other Dutch residents. Don't be afraid to cycle. The Netherlands is undeniably the best cycling-friendly country in the world. The great advantage of cycling is that you will be completely independent of others and have no extra parking or fuel costs. Many agencies that give out bicycles also ask for a deposit for it. It will be deducted from your salary. When you return the bike, you will get your deposit back.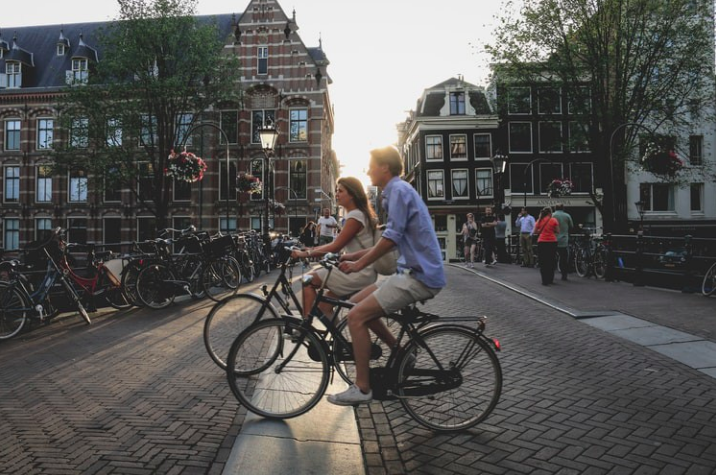 If the distance to the workplace is more than 10 kilometers, the agency will give you a car or arrange for you to be taken to work by bus. Depending on the agency, driving a personal car is not allowed unless it is a stop for shopping on the way from work. Some agencies allow cars for personal use, but there is a charge. Under Dutch tax law, it is not allowed to use company cars for personal purposes without paying additional taxes to the Dutch government. So, it is not the agency that would receive your money for using the car for personal purposes, but the Dutch tax authorities.
Recommended: Transport in the Netherlands
7. Save money for retirement
All people who work for one employment agency for more than 26 weeks start saving money for their pension. You must be at least 21 years old to start saving for your pension. The Dutch recruitment agency pays 2.6% of your salary into a pension fund. This is the minimum pension you can save while working in the Netherlands. You can also save for your pension individually.
If you work for one agency for more than 78 weeks, you can save more money for your pension. About 7.1% of your salary is allocated to the pension. The recruitment agency will pay two thirds of this contribution. As a worker, you would have to pay one third of the contribution yourself, but you would get back the accumulated amount when you reach retirement age. This can be an excellent addition to the pension you have built up in your home country. The Dutch recruitment agency will pass on your personal information to the authorities responsible for pension saving. When you leave the Netherlands, you should contact the responsible authority with your contact details so that they know how to reach you when you reach retirement age.
8. Help finding a new job
The main reason why Dutch companies use recruitment agencies is that they are looking for suitable people to work with, but cannot guarantee a job for several years ahead. The chances are high enough that when the time comes when workloads decrease, e.g. in February, you will no longer be able to work for the same company.
In this case, the recruitment agency will always help you find a new job. You must therefore be flexible, as the conditions in the new job will not necessarily be the same as in the previous one. You can also simply take a holiday at a time when the work flow is reduced. Everyone working in the Netherlands accumulates vacation days (which are paid) and holiday pay, which is normally paid once a year or when you leave the recruitment agency. I would take the opportunity to take a holiday and still get money. When the season starts again, chances are you will be welcome back in the same job.
Not only seasonal changes, but also an unpleasant environment can force you to change agencies. Unfortunately, we can't predict who you will live and work with. The quality of life in the Netherlands depends mostly on the people who surround you. If you feel uncomfortable in your surroundings, the best thing to do is to contact the person in charge at the recruitment agency. If the agency cannot offer you a solution, Robin will help you to change to a new agency where the environment is more pleasant. And it doesn't matter where you work. Every agency expects motivation and the right attitude to work. Do you expect to spend your time in the Netherlands as if you were on holiday? Then you'd better stay in your own country. Otherwise, both you and your future employer will be disappointed.
Some companies are eager to recruit directly. This may sound very tempting to you as an employee. But first check what conditions are offered to you. A direct contract is not always financially advantageous. The longer you work for a company, the higher the bonuses.
9. Health insurance is provided
According to Dutch law, everyone working in the Netherlands must have valid health insurance. If you fall ill while you are in the Netherlands, the health insurance is there to make sure that all health care costs are covered. Think about this when you need to go to hospital or just to see your doctor.
Depending on the type of insurance, either you or the recruitment agency will choose the share of the cost that you should pay to the Dutch health system yourself. Make sure you read the health insurance contract carefully and check what amount is mentioned. So you won't be unpleasantly surprised when you need to take out health insurance.
The weekly premium for health insurance is between €21 and €30, depending on which package you choose. The premium depends on the "eigen risico": the more you are willing to pay on your own in case of illness, the lower the weekly premium will be. The premium may vary depending on which services you want to include in your package. Some packages also include dentists and physiotherapists.
The recruitment agency provides a standard package of services.
This has two advantages:
They sign contracts and get the best deals from insurance companies, because not only you are covered, but also all their other employees who come to the Netherlands for temporary work.
The agencies take care of all the paperwork and deduct the money from your salary. So you don't have to worry about paperwork that is written in a language you probably don't understand and about paying your bills on time.
Bear in mind that the Dutch healthcare system is considered one of the best in the world. So, even if insurance premiums seem high, in the end it can be to your advantage.
I hope this article has helped you to understand what you can expect from Robin as intermediaries when planning a trip to the Netherlands. If you have any further questions, please do not hesitate to contact our selection specialists.
15.07.2021