Aurelijus Zinis, a student looking for a seasonal job abroad, has experienced first-hand what 21st century slavery is like. He only found a decent job on the third try.
"When seasonal work starts, we get calls from young people who are out of work, out of money, out of a place to live, looking for help, who have been victims of bogus recruitment agencies,"
says Ričardas Tenenė, a specialist in recruitment.
Aurelijus Zinis, 23, who left for the Netherlands three weeks ago, works for a flower logistics company. The Kaunas University of Technology student has already spent three summers working seasonally abroad.
After his first year, Zinis, with the help of his sister, got a job in a small town in Scotland. He worked in a hotel-restaurant doing various farm jobs: washing dishes, repairing and painting benches, and as a field worker.
Already then, the Lithuanian realized that small employers were looking for ways to pay newcomers as little as possible: "The manager hired English teenagers, who could be paid significantly less – he cut the number of waiters and deprived the rest of them of the opportunity to accumulate double-paid overtime."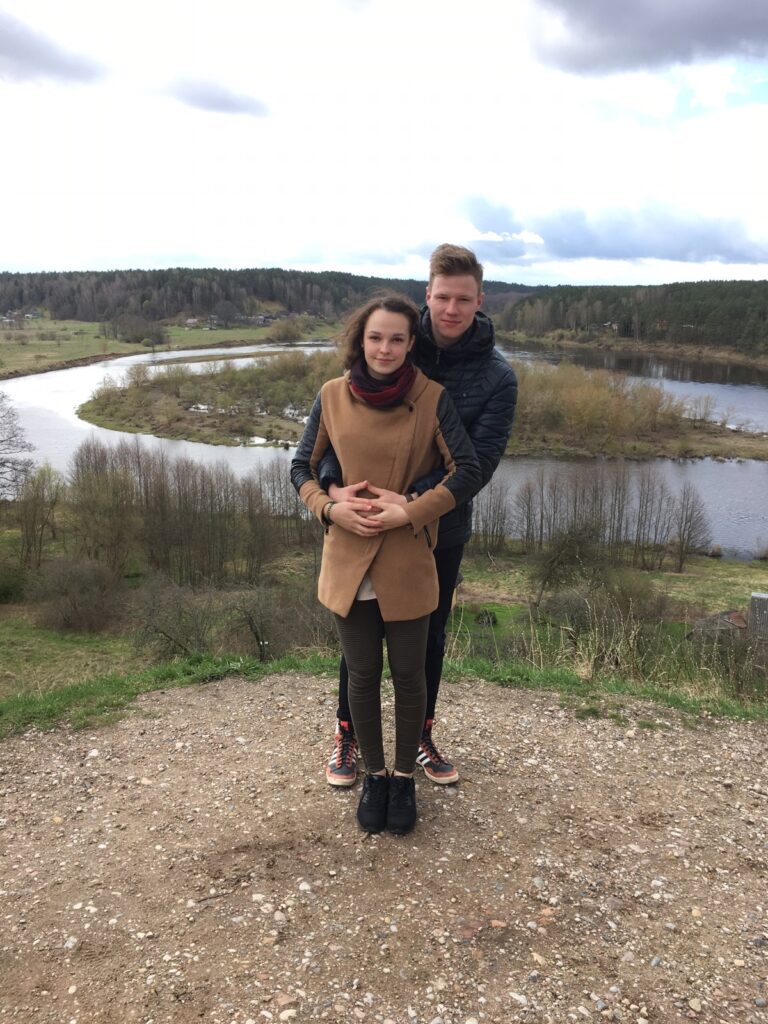 "For those who want to experience something similar to how my great-grandparents were deported in 1941, I would suggest to find an unreliable company and take a bad bus to work in a factory – an experience and an impression for life."
An experience for life
Zinis, who is on his third seasonal assignment, frowned as he recalled last summer in England: "For those who want to experience something similar to how my great-grandparents were deported in 1941, I would suggest finding an unreliable company and taking a bad bus to a factory – an experience and an impression for a lifetime."
Zinis was very dissatisfied with the English recruiting company's demand for payment for various bogus services: "finding a job", "organising a trip", "signing documents", "buying shoes".
"In reality, you pay €330 to be picked up, dropped off at a local recruitment agency and find your own job and place to live. The people who have gone this way do not understand what they are paying for. The aim of these agencies is to get money and all the hassles are your business," says a young man sharing his bitter experience.
On that occasion, the student got a job in a vegetable packing company in Boston, Lincolnshire. He had to work physically hard for 10-11 hours in a position that required a lot of concentration.
"The most frustrating thing was that we worked overtime and were paid like regular hours," says Zinis.
Choose the company, not the country
For the third time, he decided not to repeat the same mistake. He chose a recruitment agency instead of the country where he wanted to work. This time, Zinis did his homework before setting foot in an intermediary company.
He suggests learning from his experience and not trusting the stencil adverts on websites offering very good living conditions and excellent salaries. He also advises reading reviews of the intermediary company.
Zinis believes that in order to weed out fraudulent agencies from the market, it is necessary to close their doors as soon as you hear a request for payment for recruitment. According to the law in Lithuania, it is forbidden to demand payment for recruitment or related services. Honest recruitment agencies receive their income from foreign employers but not from employees.
"Choose companies that don't charge you any money and you sign the contract in Lithuania. Yes, they deduct residence fees and taxes from the salary, but there is no usury, everything is official, written in black and white, and insurance is provided," says Zinis.
Ways to avoid abusive companies
Agencies operating in Lithuania that recruit abroad are obliged to submit information on their activities twice a year to the EURES National Coordination Service, which is part of the Lithuanian Labour Exchange.
Ginta Ališevičiūtė, the acting head of this agency, suggests that anyone thinking of working abroad should gather information about the agency of interest:
Check the legal status of the company.
Check whether the brokerage service provider you are interested in is registered on the website of the "Centre of Registers".
Make sure the agency is solvent.
Check on the website of the State Tax Office that the company is compliant with its tax obligations and has no debts to the State.
Read the contract carefully.
The contract should clearly set out the agency's obligations and the services to be provided.
Only accept a job offer that is specifically named.
Before leaving, the person must have a specific job offer, a clear idea of the nature of the work, the pay, the number of hours, the duration of the contract and the amount of tax and social security contributions.
Have a work contract. Before leaving, it is advisable to have an employment contract signed between the worker and the employer or an intermediary recruitment agency that is not the direct employer.
"Once you have agreed to that service contract, it is essential to ask for the final contract of employment in that country and not to start work without it. This is the only legal lever that will save you in case of disagreements with employers or recruitment agents," says EURES Manager G. Ališevičiūtė.
Beware of the "same-day" agencies
Ričardas Tenenė, Head of Recruitment at Robin, a recruitment agency offering jobs in the Netherlands and Germany, says that he has had to rescue compatriots in a difficult situation abroad on several occasions.
"People rely on recruitment companies asking for a salary. They look past their illegal activities and are surprised to find unpleasant consequences. They face difficulties in collecting the agreed wages, irregular payments or even insolvency, problems with insecure health care – all of which can be very painful in a foreign country," warns Ms Tenene.
The recruiter agrees with EURES manager G. Ališevičiūtė that it is essential to check whether the recruitment agency you are interested in is registered with the Centre of Registers. He stresses that it is equally important to find out how many employees there are, how long they have been working for and how long the company has been in business.
"Such details would help to prevent recruiters from creating what they call "repossessions" for a few months. The aim of these agencies is to collect as much money as possible in a very short period of time from reliable workers. Their managers are not concerned about where and how the people they employ end up," says Tenene.
Another detail gives fictitious recruitment agencies away. Robin, who has been recruiting in the Netherlands for almost 10 years, advises people to read the contract very carefully and make sure that taxes are included. "If you don't pay taxes in the Netherlands, you will lose the chance to claim your fair wages and you can't expect help," says Ms Tenene.
In the Netherlands, as in many other EU countries, once a worker has signed a formal employment contract, he or she is registered with the tax office. They are given an insurance number. In case of trouble, the worker receives full legal assistance.
R. Tenene, Head of Recruitment at Robin
"If you don't pay your taxes in the Netherlands, you will lose your chance to claim your fair wages and you can't expect help,"
Beware your data
Few people who want to work abroad are aware that registering a company with the 'Centre of Registers' does not give it the right to collect, store and use employees' personal data.
"If you do not check the recruitment company, you risk that your CV, a copy of your passport and your bank accounts will be used for the interests of unscrupulous individuals," warns R. Tenene.
All official recruitment agencies that handle employees' personal data must obtain permission from the State Data Protection Inspectorate.
On the website of the Agency, it is possible to check within seconds whether a company has been authorised to handle personal data by clicking on the footnote "State Register of Personal Data Controllers". Short-term intermediary companies do not have this right.
Dutch recruitment agencies have formed the associations ABU and NBBU to protect themselves against fraudulent and bogus companies.
"Members of the associations are obliged to comply with stricter rules than those laid down by law regarding the living conditions of workers and the quality of services provided. Agencies are constantly inspected. Those that do not comply lose their licenses," says Ms Tenene.
Enough with silence
G. Ališevičiūtė, Head of the EURES National Coordination Office, urges victims not to remain silent: "Be sure to report violations by intermediary recruitment companies to the Police Department under the Ministry of Interior. Those who are abroad should contact the institutions representing workers' rights in that country, such as the labour inspectorate or trade unions."
A. Zinis, who was a victim of unscrupulous employers last year, advises those who find themselves under the oppression of employers not to whine. "If they don't pay you money, what's the point of staying?! Pack your bags and go! Employment companies that genuinely care about the people they find and offer them good working conditions and fair pay are thriving," says the student.
They are convinced that the only cure for bogus recruitment agencies is to know your rights and to be brave enough to publicize the brazen behaviour of such companies.
20.07.2021